One important aspect of a graduate level education in digital education leadership is the ability to provide effective coaching to colleagues. It is important that we share our knowledge and skills with our peers to expand the understanding and utilization of digital technology in our collective teaching practices. University instructors owe it to their students to continually advance their knowledge and skills in digital technology, as college students will be expected to demonstrate 21st century skills in their careers, which include information, media, and technology literacy. Additionally, it appears that the COVID-19 pandemic has resulted in increased reliance on digital technology use in the professional realm, which may become permanent as society retains best practices emerging from the pandemic.
In this post, I will be sharing my understanding of the benefits of peer coaching, ways in which peer coaches can provide support to their colleagues, and how design thinking can be integrated into the coaching process to provide a shared vision, structure, support, and guidance towards meeting outcomes.
The question that I seek to answer is as follows: How can the integration of design thinking into the peer coaching process enhance the overall coaching experience?
My question aligns with the International Society for Technology in Education (ISTE) Standards for Coaches 1: "Coaches inspire educators and leaders to use technology to create equitable and ongoing access to high-quality learning," and 1a. "Create a shared vision and culture for using technology to learn and accelerate transformation through the coaching process" (ISTE).
How does peer coaching ultimately benefit our students?
In his book titled, Peer Coaching: Unlocking the Power of Collaboration, Foltos (2013) states that "Coaches help colleagues improve teaching and learning by assisting them to develop the necessary lesson-design skills and instructional and technology integration strategies needed to prepare their students for college and careers."
What are some ways a peer coach can support colleagues who aspire to transform their teaching practices and lesson plans through technology integration?
Assist a colleague with the integration of digital tool into an existing lesson plan.
Provide training using an unfamiliar digital tool, platform, or software program.
Revise a lesson plan to offer students more autonomy, voice, and choice in how they approach, complete, and evaluate their learning.
Model use of technology in a real time class session.
Co-plan a learning activity by integrating technology to transform or expand learning objectives.
Co-teach a lesson plan (Foltos, 2013).
This video titled, Instructional Coaching: Driving Meaningful Technology Integration, provides a glimpse of how effective collaboration in an instructional coaching relationship can improve teaching and learning (Edutopia).
What is Design Thinking?
Conceptualized at the Hasso-Plattner Institute of Design at Stanford University, design thinking is a solution-focused 5-step process that provides a structured approach to problem solving and innovation (Miller, 2017).
Foster (2019) defines design thinking as "understanding the human needs related to a problem, reframing the problem in human-centric ways, creating many ideas in brainstorming sessions, and adopting a hands-on approach to prototyping and testing."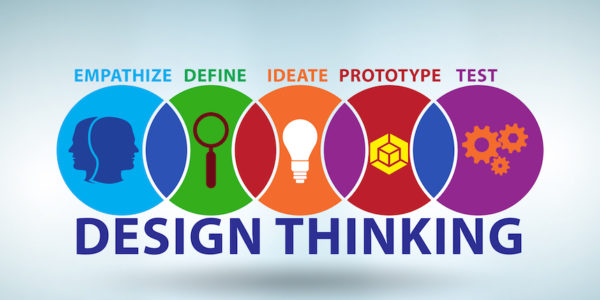 Design thinking should be considered as a viable framework for use in peer coaching. In fact, there are many journal articles and books written on the use of design thinking in sports coaching. Though at first glance, the term "design thinking" may not intuitively be perceived as a natural fit with instructional coaching, this human-centered problem solving model provides essential relationship building, individualization, support, and the structure necessary for the coaching process to result in positive outcomes related to teaching and learning.
In an article titled, "The design thinking approach to coaching," Lewis (2018) explains that design thinking and the peer coaching process have similar features. She is a proponent of integrating design thinking into the instructional coaching framework "…to more effectively set goals and achieve outcomes that meet our teachers' needs."
The 5 steps in the design thinking process are as follows:
Empathize: Empathy is part of building rapport, developing a relationship, building trust, and assessing and researching the needs of the teachers being coached.
Define: As a component of setting goals and developing a plan, reflection and articulation of the problem in the form of problem statements are key to determining solutions.
Ideate: Brainstorming and researching possible solutions to the problem
Prototype: This experimental phase includes determining solutions and developing action steps towards solving the problem.
Test: In this phase of the process, the solutions are put into action. After a solution has been implemented, it is necessary to assess whether the plans put into place achieved the intended outcomes. If not, they can be revised and tested again until the desired outcomes are achieved (Lewis, 2018).
Once a solid relationship has been established between the coach and coachee, it makes a lot of sense to me to implement a structural framework, such as a collaborative design thinking process, to help teachers move forward in their goal attainment. The integration of design thinking into the coaching process may lead to success in instructional transformation through use of technology, which will benefit students and teachers alike.
References
Foltos, L. (2013). Peer coaching: Unlocking the power of collaboration. Corwin.
Foster, M.K. (2019). Design thinking: A creative approach to problem solving. Management Teaching Review, 6(2), 123-140.
International Society of Technology in Education. https://www.iste.org/
Lewis, S. (2018). The "design thinking" approach to coaching. https://blog.teachboost.com/design-thinking-approach-to-coaching
Miller, H.M. (2017). What is design thinking? And what are the 5 stages associated with it? https://medium.com/@bhmiller0712/what-is-design-thinking-and-what-are-the-5-stages-associated-with-it